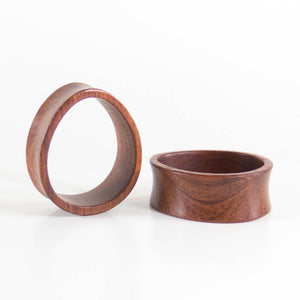 Gentle curve oval teardrop tunnels for easy comfortable wearing. Effortlessly slide in and out of ear lobes.

Blood Wood is native to South America but is now grown extensively throughout the South Pacific and SE Asia. The heart wood is strong and dense and polishes to a fine luster.

Individually handcrafted in sizes up to 3" gauge [76mm]

Organics allow your skin to breathe, eliminating worries of the piercing odor common with steel and plastic body jewelry.
***These Gauges are priced and sold as pairs***